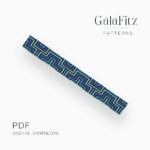 Geometric seamless bead loom pattern, PDF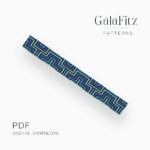 Geometric seamless bead loom pattern, PDF
Bead loom bracelet pattern made with 11/0 Miyuki Delica beads.
• Dimensions: 0.8 x 6.88 inches
• Size: 15 columns x 100 rows
• Colors: 4
The pattern includes:
• pattern design
• bead legend (color, name, number, and quantity)
• large bead graph
• word chart
Materials and instructions are not included.
Description
Geometric seamless bead loom pattern will be a great idea to make some festive bracelets for you or as a gift.
The item is a PATTERN in PDF format. Once the payment is confirmed, you'll be redirected to a page with your order where you can download the file(s). Also, you will receive an email with the link that leads you to the download file(s).
The pattern has similar colors but they are not identical to the color of the beads given in the pdf file. The displayed colors may vary on different monitors due to individual graphic settings. You don't have to be influenced by the beads given in the instruction and you can match the others.
If you want to publish or sell the finished bracelet, please give credit to GalaFitz by linking back to the page where you originally bought the pattern or include the shop name in the description. Thank you!
If you have any questions, please, visit the FAQ page where I tried to cover the most asked questions.
Want to get more information – just contact me here.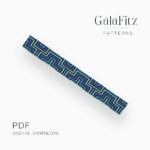 Geometric seamless bead loom pattern, PDF